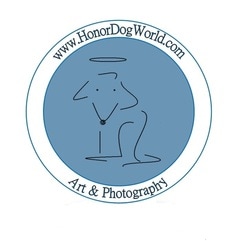 The owner of Honor Dog World is currently on a hiatus and is not taking any new orders for Pet portraits! Please check back in 2018!

---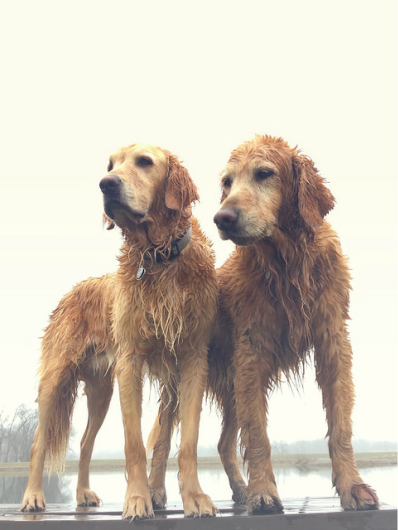 "I have always loved pets, especially dogs. I have been around animals my whole life and with all honesty, I couldn't imagine living life without them!"
---
"About the Artist" - Kristen Weber
The day I brought Meatball home :)​

It was a photo of my dog "Jack", that first inspired me to take a Landscape Oil painting class. Upon nearing completion of the landscape assigned, I convinced the instructor to let me start a new painting photo. It would be called "Jack"! Executing with a gentle technique the instructor guided the progression of the painting and before long a pet portrait as well as a new passion was born!

I then went on to paint the portraits of my other two comrades Gus and Chance. Quickly becoming disenchanted with the months it took for one oil painting to fully dry, not to mention the fumes, I discovered what used to take months to dry with oil paint became possible in a couple of weeks with Acrylics! It's become common place now to be fueled by sheer excitement to just whip up a painting un-requested and gifted, just for funsies!

Thank goodness for the need for natural daylight after being emersed in the I.T. support field as this is what inspired "20 min. "drawing breaks". From it oil pastel drawings emerged. Check out the "ART SHOP", as many of these drawings are for sale. Don't be surprised if your purchased drawing is soaked in a light mist of tears, as each drawing is loved and, vibrationally, not even for sale at all. It will be remembered with fond memories.
​
The desire to be outdoors running around with the dogs, in the prairies of Missouri, and the invention of cell phone cameras that can be used to capture every moment has created an Instagram addiction! A 13 year study and practice of capturing photos of dogs in various natural lighting, the zoomies coming and going from different angles, timing, preparedness, how water and light work together has created the next logical step, Pet photography!

---
​

As a lifelong artist with a genuine love for animals, it was in 2005 when I saw a beautiful photo of my dog, Jack, and got inspired to paint a portrait. I hung the portrait at home and soon, everyone who saw it wanted one for their own pets.

So, from friends and family requests, I was soon doing portraits for friends of friends and other people my services were referred to. I knew this was something I'd be happy to do long-term so I decided to formalize the business and establish Honor Dog World.

Honor Dog World provides amazing painted pet portraits, oil pastel drawings, pet photography, and other artworks for sale. I take pride in the quality and speed of completion of the services I deliver.
​
You can reach me by phone at 314-616-6993

or email at

kristen@honordogworld.com

.



With a genuine love for animals, Honor Dog World donates 10% of all its proceeds to the customer's chosen animal rescue group.

For pet portrait painting and pastel oil drawing, I can work with clients all over the world. All you need to do is to send me a photo of your dog, cat, horse, pig, or any other pet, and tell me how you want it done, and I'll do it according to your preferences. For pet photography services, I work with pet owners in the St. Louis Metro area for on location photo sessions.
---
---
It's really simple, a client either pays in full, or pays 1/2 down to commission and remaining balance upon completion. Client sends a photo to Honor Dog World, a REALLY close up detailed photo! The eyes, THE EYES ARE THE KEY! Several photos are better than one. Kristen will then inquire about the personality of your dog, cat or bird, or whatever your friend is. Client can choose a color scheme for the background. Some animal colors look better against certain color backgrounds.

Keep in mind, one may want to choose a timeless combination to go with any decor. Once the painting process is started, client can visit a secret "Client Portal" section of the website, to view your paintings progression.
​​
Upon completion of the painting, client will be asked to approve the final piece, and once approved the painting will be signed and protected with a layer of varnish. The client will then send the final 1/2 of the balance upon shipment, if it is owed. Be sure to tell us your favorite animal rescue group and we'll donate 10% of the total cost to them on your pets behalf :)
​
All sales are 100% satisfaction guaranteed, so if a client is not happy with their painting, we will purchase the painting back from the client MINUS materials and shipping.

All paintings include:
*Certificate of Authenticity
*Progressions print (how your painting progressed)
*Blank notecard featuring your Artwork.

It's really more of an experience than a shoot! The dog photo sessions take place out doors. I'm not talking about the backyard, unless you have or know of a backyard that happens to be acres of rolling hills with amazing views, a beautiful lake or views of sunrises and sunsets!
I have found that the best dog energy and smiles always occur outside, where the menagerie of scents riding in the breeze and the fluttering of life surrounding tickles the dogs' senses to the point of pure bliss. Photo op!
​
Whatever your dog enjoys, whether it be running full speed, jumping off a dock into a lake, chasing a tennis ball or soaring into the air to catch a frisbee, I will capture it! Maybe your dog simply loves to relax and zen out in the sunset! Perhaps your dog is more of a city slicker, so in this case a dog friendly cafe shoot or a trot down his favorite scenic street may be in order. Wherever your dog is at his best is where we want to be.

Just grab your dog, wipe the boogies from his eyes, the thinnest leash you can find and come on a photographic adventure with me! We will make art!
(Now taking orders!)